Are you looking for Harshad Mehta quotes? Here we share some Harshad Mehta quotes from the Scam 1992 web series in Hindi, English, Gujarati, Tamil and Telugu.
OTT platforms like Netflix, Amazon Prime, Hotstar, etc., are rising nationwide in India. Indian web series platform is doing well, and many new web series is coming out.
Scam 1992 – The Story of Harshad Mehta is based on the book The Scam: Who Won, Who Lost, Who Got Away by Debashis Basu and Sucheta Dalal. This series is directed by well-known director Hanshal Mehta. This series is based on the story of Harshad Mehta, superbly played by Pratik Gandhi.
Harshad Mehta was a real Big B Robin Hood of the Bombay Stock Exchange (BSE). He went from a small private investor to a big bull. This series sheds light on the loopholes in the Indian banking and financial system and how some of them have abused the system.
So let's look at some of the inspirational and motivational quotes from Scam 1992 – The Harshad Mehta Story series.
Harshad Mehta Quotes in Hindi
Harshad Mehta's quotes in Hindi are motivational for business lovers. We have collected famous Harshad Mehta quotes from the Scam 1992 series. I hope you will love these quotes and share them with your friends and family. So scroll down to read Scam 1992 Quotes in Hindi.
1. Dekho mein Cigarette nahi pita per jeb me lighter jarur rakhta hoon Dhamakka karne ke liye.
This is one of the best dialogue from the movie. Harshad Mehta says these dialogues very boldly there are many interesting and heart-touching dialogues in the movie Scam 1992 Download Free 123movies.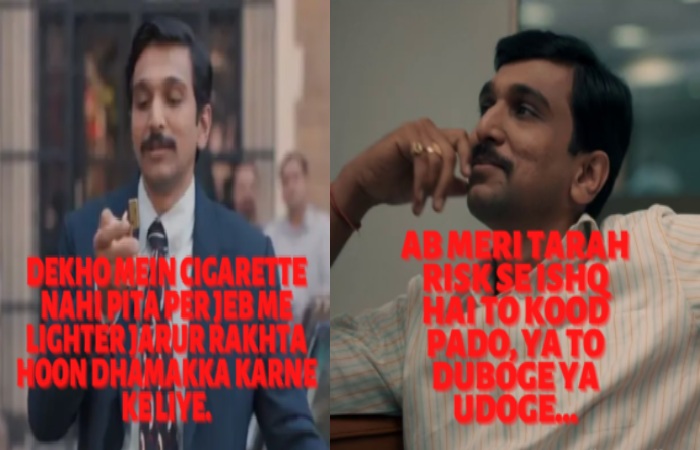 2. Ab meri tarah Risk se ishq hai to kood pado, ya to duboge ya udoge…
3. Risk Hain to Ishq Hain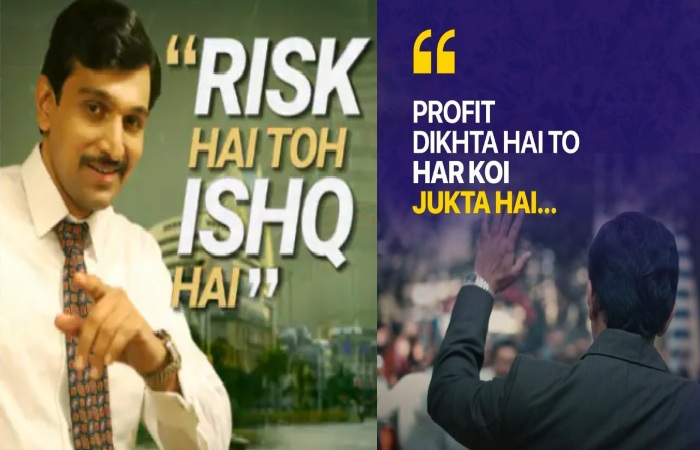 4. Profit dikhta hai to koi bhi Jhukta hai…
5. Abhi apne pass kharch karne ko time hi to hai, nahi to sahi time ka wait karne me khud kharach ho jayenge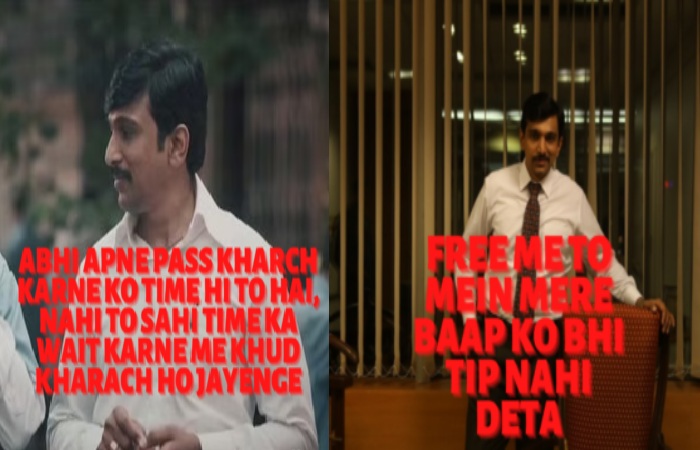 6. Free Me to Mein Mere Baap Ko Bhi Tip Nahi Deta
7. Emotion mein insaan hamesa galti karta hai.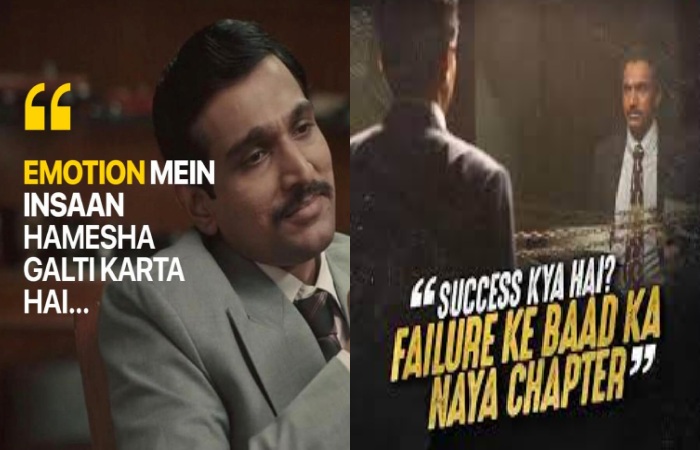 8. Success Kya Hain ?? failure ke baad ka naya chapter.
9. Market me sabse bada jokhim, jokhim na lene mein hai.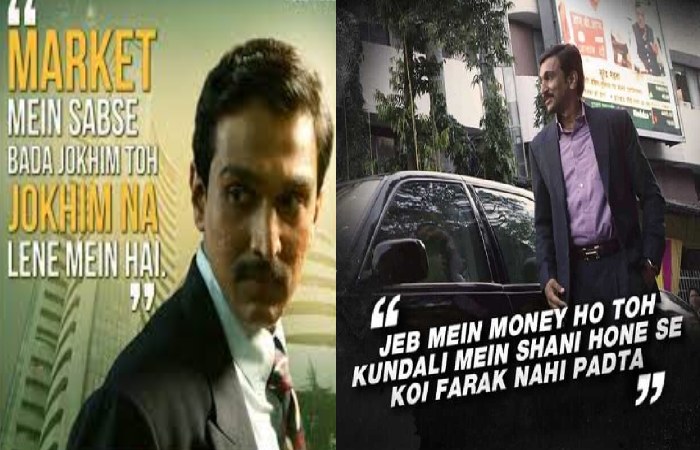 10. Jab Jeb me money ho to kundali me shani hone se kuch farq nahi padta
11. Yeh Bombay hai yahan sab badal jayega par samundar nahi. Aur main is share market ka samundar hi hu.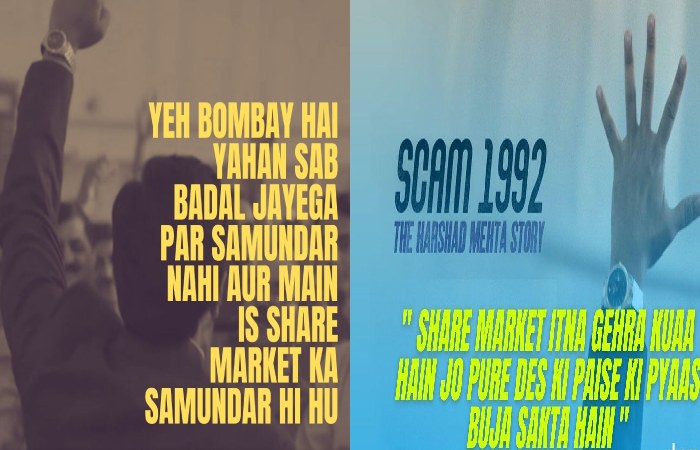 12. Share Market itna gehra kuaa hain jo pure des ki paise ki pyaas buja sakta hain.
13. Old School ho ya naya school sabke subject mein ek subject common hota hai 'profit'. Aur wo mera favourite subject hai.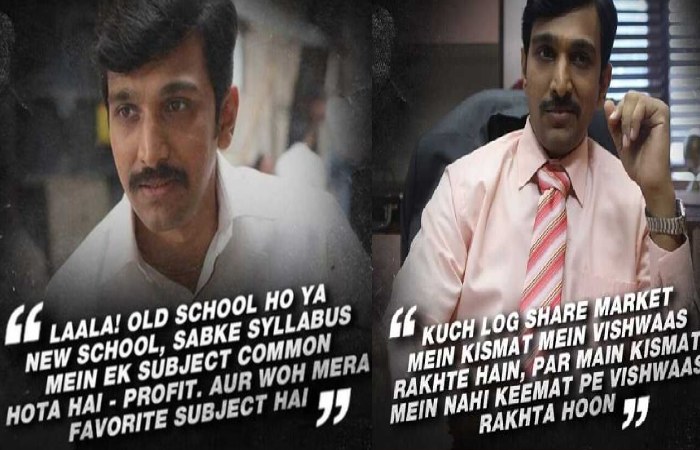 14. Share market me log kismat me vishwas rakhte hain, par main kismat me nahi keemat me vishwas rakhta hoon.
 Harshad Mehta Quotes in English
Worth reading are quotes from Scam 1992 in English by Harshad Mehta. Because these motivational quotes by Harshad Mehta will inspire you to take action. Although he was a merchant, his words are inspirational in many ways. So, scroll down to read Harshad Mehta's famous quotes in English.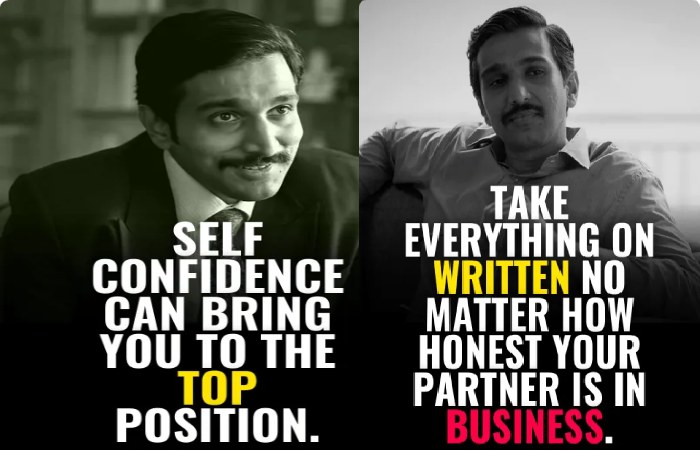 Success is a new chapter after failure.
Mental pressure can hit anyone.
Get everything in writing. It doesn't matter how honest your business partner is.
The expensive thing in the world is trust. Inexpensive people can't afford that.
Private label is very important.
Communication skills are a must to attract high-priced clients.
Don't make a decision when you're emotional.
Trust is the most important key to any business; build trust before you sell.
Confidence can take you to the top.
If you have money and skills, Everyone will bow to you.
Harshad Mehta Quotes in Gujrati
Harshad Mehta was born into a Gujrati family. In this article, we try to share quotes from Harshad Mehta Gujrati with you. Although we didn't find more, we separated the quotes related to Gujrati.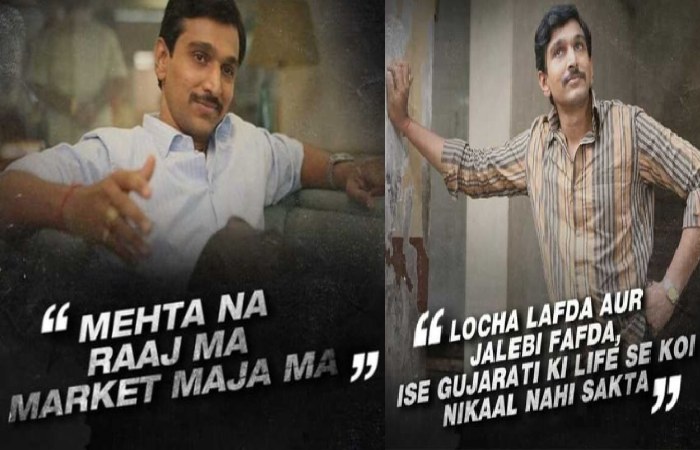 Locha, lafda aur jalebi fafda isko gujarati ki life se koi nikaal nahi sakta
 Mehta na Rajma, Majama Market.
Gujarati ke liye dhanda, dharam se bhi bada hota hai.
Conclusion on Harshad Mehta Quotes
These were some inspiring quotes from the series "Scam 1992- The Harshad Mehta Story".If you are interested in the stock and financial markets, There are some influencing quotes in this series.
Related Searches:
[scam 1992 dialogue]
[scam 1992]
[1992 scam cast]
[scam movies hindi]
[harshad mehta web series]
[scam 1992 harshad mehta]
[harshad mehta website]
[scam 1993]
[scam hindi series]
[harshad mehta show]
[harshad mehta film]
[harshad mehta cast]
[scam 1992: the harshad mehta story]
[1993 scam web series]
[1992 top movies]
[scam tv show India]
[scam 92]
[scam 1982]
[1992 scam full movie]
[1992 harshad mehta]
[scam 92 web series]
[harshad mehta astrology]
[scam of 1992 harshad mehta]
[movie harshad mehta]
[watch scam 1992]
[risk hai toh ishq hai]
[scam1992]
[harshad mehta death video]
[harshad mehta kundli]