In 2014, Matt Cutts from Google published a post that declared guest posting dead for link building.
So then why do we still see SEOs guest blogging opportunities advertised on the web?
Many websites, both big and small, allow users to submit a guest post. And many people do submit guest posts. 
Expert guest posting services are also available and the results of these services are verifiable, to say the least. 
Why? 
Well, because guest posting might not be the best backlink-building strategy out there, it sure is good for SEO in other ways. Before we elaborate on the why and how of guest blogging, let's begin by breaking down what guest posting exactly is.  
What Is Guest Blogging?
When you publish your blog or article on someone else's website, that's called guest blogging. You are a guest on the other website and thus, your post on the site is a guest post. Simple. 
Most SEOs use guest blogging for embedding backlinks. And that's how it gets abused. 
Due to excess (and often illegitimate) use of guest blogging for getting backlinks, Google does not give weightage to guest blog backlinks. And in case guest blog link building is found to be unnatural, the pages are penalized in rankings.  
A tweet from a Google insider, John Mu, even recommended that all the links in a guest blog, even if they are natural, should be no-follow. Even the one in the byline. 
So, if guest blogging isn't a link-building tactic, then what is guest blogging in SEO?
Guest blogging is a great reputation marketing tool as it allows building awareness about your brand in front of a wide audience. 
You can establish your expertise by writing valuable content.
You can engage an audience by developing content that is relevant to their needs.
You can build trust in them for your brand (or yourself) by offering insights and information.
It can also help bring in the referral traffic, increase organic traffic, boost conversions, and enhance social shares. 
Short and Simple Guide To Guest Blogging For SEO
Writing a guest blog is no rocket science. 
You write an information-rich piece of read-worthy content.

Make sure it meets your target site's guest posting guidelines.

And then you submit the post, it gets published, and you reap the SEO benefits.
However, it isn't as easy as it sounds. 
Here's a roundup of how many guest blogging pitches are sent each month: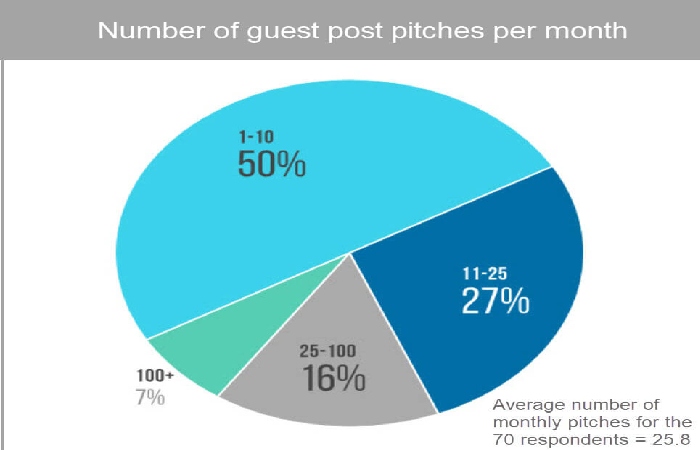 Are all these pitches successful?
No.
Here is how many guest posts are actually written each month: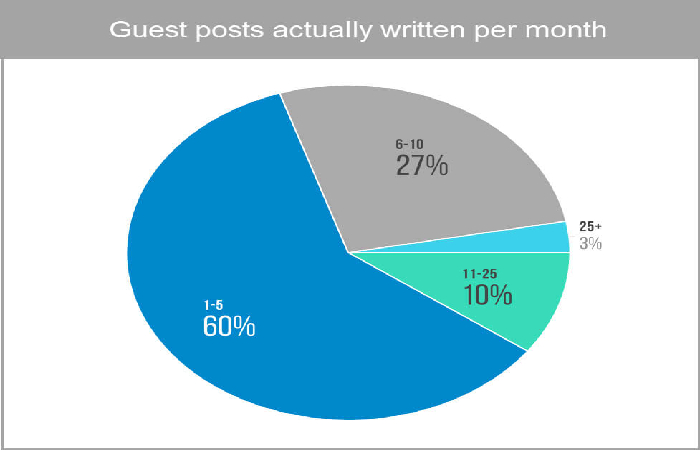 This means, unless you follow the best practices, you won't be able to master the art of guest blogging for SEO. 
And here is the shortest and simplest guide to help you understand (and implement) all the best practices
Let's get started:
Finding Guest Blogging Opportunities
Guest blogging opportunities won't come knocking on your door. You'd have to search for them. On Google and on social media platforms. 
A simple web search for "Write for us" or "Submit a guest blog/post" would bring up a flood of results. 
The next step is to find out the opportunities in your niche. 
Look for opportunities where:
The site you are deciding to post on should have a good readership base.

The readers of the site would be interested in the content that you would be creating and posting.

The site has good domain and page authority, along with a plausible social media presence. 
You can also look at your competitor's backlink profile to find out what sites they are posting guest blogs on. Also, find out where industry leaders in your niche are posting their content. Those would be good places to start. 
Pitching For A Guest Blog Posting
As seen already, a lot of people pitch for guest blog posting, but most don't succeed. A wrong pitch could not just lead to rejection but also tamper your image in the eyes of other webmasters. Some best practices that you should follow include:
Get to know the site's audience. Once you know who will be reading your blog, your blog as well as the pitch for it will be more relevant.

Read all the guest posting guidelines for the website you are pitching to.

Send a personalized email pitch.

Introduce who you are and what makes you a suitable candidate to write about the subject. Also mention why the site's audience would like to read your content.

Do NOT ask for backlinks. Most guest blogging opportunities allow you to include one link to your domain, given it is natural and adds value to the blog. Asking for a backlink makes you look immature and inexperienced in the world of SEO.
Writing The Perfect Guest Blog
Once your pitch yields a positive response, it is time to don your writing hate and blog on.
But how to write a guest post?
Here's how:
There is no replacement for good content. The first thing that you need to ensure in your guest blog is that it should be well-researched, relevant, grammatically correct, free from spelling errors, and written in the right tone. 

Make sure the content is written for the reader and not to boast about yourself or your brand. While it is okay to occasionally mention your business, the majority of the post should be about topics that concern the reader.

Format the post like other blogs on the website. The readers are accustomed to that style and would prefer a similar look.

Include some internal links to the website that your guest blog is going to be published on. Also, if you are mentioning, and tools, products, services, books, or something else, include a link to that too. This aids readers to act on the suggestions you are making in your blog. 

Include a call to action at the end. It should be usually urging readers to comment on the post.
Crafting a Guest Post Bio
For guest bloggers, the most important part of the guest blog is the guest bio that includes a link to your website and social media accounts. (That's how you'll get referral traffic.)
You should spend at least 30 minutes crafting your guest post bio. Keep the following points in mind while you are at it:
Include your social profiles so that people are encouraged to connect with you.

Be descriptive yet concise. Include information that would hint at why you are an authoritative voice on the subject matter. Your current job/employment and experience should be included. 
How To Track Your Guest Blogging For SEO Efforts?
If you are not tracking the results of your guest posting efforts, know that most of them are going to go to waste. 
Measuring various metrics will help you understand what you are doing right and where you need improvement. Some areas to track include:
How much referral traffic your website is now getting?

Has your organic traffic improved?

Are people more aware of your business?

What kind of social engagement do you get from the guest blogs?

Do people comment and engage with your guest posts?
Getting Started 
Now that you know the what, why, and how of guest blogging, it is time to get started. 
Find – Pitch – Write – Track – Succeed. Start taking action today.