Picture this: a home renovation business gets a call asking for a quote for a kitchen remodeling project. As a business owner yourself, you know that drafting an accurate quote entails a slew of information. But this business just wings it by giving a rough figure, probably after running the numbers. This is by no means a quote but a mere estimate—these two are different things. 
A business that only gives an estimate risks losing a customer's trust when they realize the service they're trying to get turns out to be much costlier. Even laws in some countries draw a line between a quote and an estimate. 
A service quote holds the business to the total price provided. Customers may be in a position to file a complaint if the cost exceeds the quoted figure, which is why companies make an effort to ensure the accuracy of their quotes. While a quote doesn't guarantee that a customer will push through with their order, the following tips will increase your business's chances of winning the job.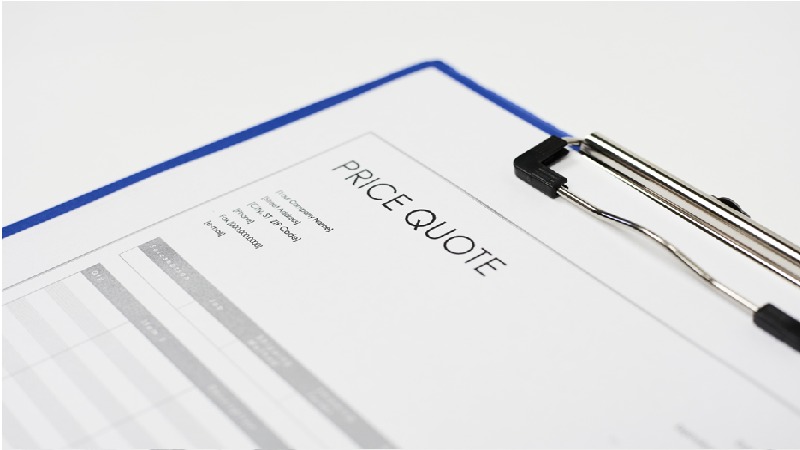 The following tips will increase your business's chances of winning the job.
Ask yourself a few important questions
Providing a quote is the penultimate step to turning a prospect into a paying customer. Providing a quote for a service is highly complex as each quote can be as unique as each job you attend. You have to know exactly how much your materials and labour cost, both to you and to your customer, as well as a good idea of the time frame for the job. 
So before generating a quote, it helps to consider the following important points:
Can your business provide or render the requested services?

Can it provide or render these services in sufficient numbers?

Can it maintain a strict timetable in fulfilling the order?

Can it charge an amount reasonable to the customer and still profit?

Can it offer a price better than that of the immediate competition? (1)
Saying no to one of these questions doesn't always mean your business can't provide a convincing quote. However, the quote should provide the necessary details and disclaimers. Not only that—take care also not to undersell your services in an attempt to close a deal.
Get the details in order
Once the details are ready, the next step is to generate the quote. Handwritten quotes are still fair game, but software like Jobber can make the process much more convenient, consistent, organised and professional. As far as quote generation is concerned, software such as this can quickly integrate everything you need into a customized template. 
If you are able to speed up your quotation process, you stand to be in a stronger position to win the job as it looks like you value that prospects custom more than a competitor who might take longer and not be ready to service them.
The format in which to present the information is a matter of personal preference. But a quote should at least contain the following details:
Customer information (name, address, contact details)

Quote tracking number

Date of issuance

Number of days the quote is valid

Itemized list of the services

Total price (inclusive of taxes)

Terms and conditions

Project scope and timetable (2)
Generate better quotes with benchmarking
One of the aspects worth considering when creating quotes is your business's ability to offer competitive pricing. Closely studying the competition is an excellent way to formulate your pricing strategy, but experts say it's not the only source of information. It also pays to conduct research on the industry as a whole—the leaders, standards, and everything in between.
Benchmarking will help you as a business owner peer deeper into the economics of your business operations. While it entails getting into the weeds like operating costs and revenue per employee, the process identifies what needs to be improved and how to go about it. Having this data to hand can ensure your quotes are more or less close to the industry standard.
The sources of data for benchmarking include third-party services, industry associations, or online government sources. You may also want to use some financial tools for crunching the numbers.
Send it with a brief message
After sorting out all information, your quote is ready to be sent to the customer for their review. This is usually done via email or text. If sent via email, there's no need to write an overly long message. The body can consist of three simple paragraphs (ideally up to two sentences each):
The first paragraph should thank the customer for their inquiry.

The second paragraph should mention the quoted total price.

The third paragraph should invite the customer to contact your business for any further questions.
Text messages are much shorter. Typically, they only tell the customer to refer to the attached file or link to the file. But whatever means you use for sending your quotes, never forget to follow up on them once the expiry date draws near. 
Conclusion
Quotes are a powerful medium to turn prospects into paying customers in the long run. If you can invest more effort into providing customers a spot-on price tag, it will speak volumes as to how you run your business.
References
"Before you quote", Source:

https://www.business.qld.gov.au/running-business/marketing-sales/sales/preparing-quote/before-quote

"Create a Quote in 8 Simple Steps: A Guide for Small Businesses", Source:

https://www.freshbooks.com/hub/estimates/create-quote
Samuel Smith
Samuel Smith is a freelance writer. He has a working knowledge of AutoCAD and other technical drawing software. During his free time, Samuel likes to prioritize writing inspirational quotes, and he is passionate when it comes to this hobby and posting them on his social media accounts.