Businesses are seeking new opportunities as the global economy evolves. Dubai is a great place to start an international business in 2023. Culture, opportunity, and innovation in this lively city can help any firm prosper globally.
Entrepreneurs looking to start or relocate an international business in 2023 should consider Dubai, home to a large expatriate community, favourable tax rates, and a supportive regulatory environment.
This essay will explore why now is the right time to establish an international firm in Dubai by examining the city's favourable business-friendly tax climate, vibrant workforce, and booming business culture. All these benefits make it clear why you should relocate your international business to Dubai in 2023.
Overview of Dubai's Business Environment in 2023
In 2023, Dubai is predicted to become even more appealing to foreign businesses. UAE firms can grow thanks to government efforts. They include visa simplification, tax incentives, and foreign direct investment.
Dubai's position also facilitates worldwide linkages. It connects Europe, Asia, and Africa, giving it access to global markets. Its infrastructure is upgraded with cutting-edge technologies to support any corporate operation. Finally, its trade position attracts multinational enterprises.
These factors will make Dubai attractive to businesses in 2023 when global economic conditions are projected to change significantly. After this introduction to Dubai's business environment, let's look at the benefits of locating there.
Benefits of Starting an International Business in Dubai
Dubai is a futuristic international economic powerhouse. Global entrepreneurs are drawn to its glittering skyline, dynamic economy, and tax-friendly environment. Dubai has many advantages for international businesses, including around 10 million tourists in 2023.
Location is the first benefit. Due to their proximity, businesses can export to new markets in India, Europe, and Africa. Dubai's 0–20 per cent corporation tax rate attracts foreign companies. Its advanced infrastructure and transportation links allow enterprises to transfer goods quickly and efficiently around the region.
TIP: Before starting a business in Dubai, investigate the local rules and regulations, which may differ from those of your native nation. When starting a company, consider cultural variations to guarantee seamless operations.
Establishing a business in Dubai may benefit firms of all sizes. Its strategic location and business-friendly tax policies make it suitable for worldwide growth.
Challenges of Doing Business in Dubai
Several entrepreneurs want to start an international firm in Dubai, the UAE's commercial hub. Businesses are noticing Dubai's potential as foreign direct investment grew 17.5% from 2018 to 2019. Before committing, entrepreneurs should be aware of the region's business challenges.
Dubai's culture is the biggest issue. The city has an English-speaking population, although it is mostly Arabic, and many business activities are governed by Sharia law, which might confuse outsiders. Since not all business partners speak English, language difficulties may also arise.
Dubai's scorching summers can make working conditions difficult. If staff aren't comfortable, productivity may suffer. While starting a business in Dubai, investors must consider the high cost of living.
Despite certain hurdles, Dubai offers many advantages for entrepreneurs wishing to develop overseas. Recognising these issues and taking steps to mitigate them will help multinational businesses establish themselves here in 2023.
The Regulatory Framework for International Businesses in Dubai
The regulatory environment for international enterprises in Dubai is effective and promising, with 84% of foreign companies in Dubai optimistic about 2021. The city is the finest in the Middle East and North Africa to establish and grow a business (MENA).
Dubai's business-friendly regulatory environment protects investors. The Dubai Department of Economic Development (DED) and the Federal Authority for Government Human Resources (FAGHR) govern FAHR Federal Authority for Government Human Resources (FAGHR) govern FAHR. Start-ups have many options:
• Incorporation: DED registration gives firms legal rights and duties.
• Licensing: Businesses need government licenses for their industry and activity.
• Regulation: Businesses must follow laws, rules, policies, and processes.
Free zones, finance, visa requirements, and tax benefits help businesses. These services facilitate the setup of foreign businesses in Dubai. Some financial institutions also give guidance on city business setup.
Dubai's business support system delivers stability and security while helping enterprises expand in the region. Entrepreneurs might find international business prospects in Dubai with this enabling atmosphere.
International Business Opportunities in Dubai
"Fortune favours the bold," the saying goes. This applies to the bold," the saying goes. This applies to Dubai's international business startups in 2023. Dubai's international commercial opportunities are unique for entrepreneurs.
Low taxes, modern infrastructure, and access to European, African, and Asian markets make the city desirable. Throughout the past decade, banking, transportation, and hospitality have grown in the city. International companies wishing to profit from these industries have many possibilities.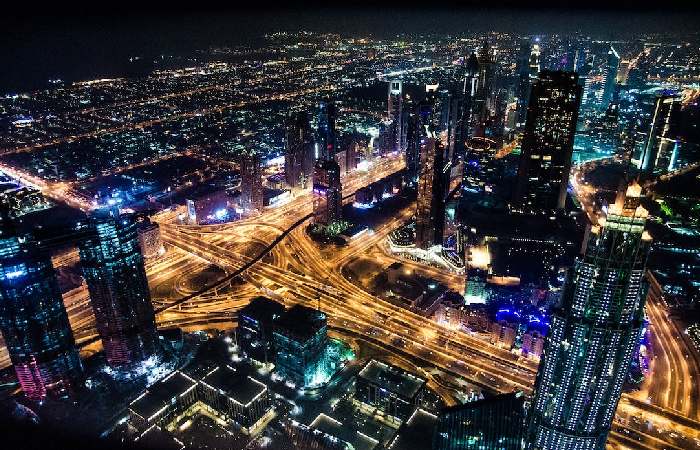 Dubai welcomes foreign investment and provides world-class services in various fields. The city's complex legal structure protects investors, and lets businesses operate without political or economic uncertainty. Dubai has many services to help foreign companies understand local legislation and procedures.
International businesses can operate confidently, knowing their investments are secure and their business plans have been strengthened. With all this in mind, entrepreneurs may choose to take advantage of Dubai's potential while starting an international firm in 2023.
Setting up shop here have many benefits, but there are some things to consider before taking the plunge.
Tips for Establishing an International Business in Dubai
Creating an international business in Dubai requires some planning. Before acting, research market trends and legislation. Dubai welcomes international enterprises, but you must understand local culture and practices to succeed. Knowing the local language or hiring someone who does will help you traverse the city and run smoothly.
Build solid local partnerships. Good relationships can help you find fresh opportunities and avoid costly mistakes. Joining industry-specific business networks will help you learn Dubai's best practices.
With the correct preparation and knowledge of how things work in Dubai, your foreign firm will benefit from its many advantages. Investment opportunities abound in this resource-rich economy.
Conclusion
In conclusion, Dubai is a terrific area to start an international firm in 2023 due to its appealing regulatory environment, good infrastructure, and Middle Eastern market access. Planning and cultural awareness might help you do business in Dubai. Businesses may capitalise on this city's many opportunities with the correct tactics.
Dubai is a desert diamond with plenty of promise for world changers. Businesses can thrive in this dynamic business climate. Dubai will attract worldwide enterprises in 2023 and beyond due to its strategic position and resources.
Dubai is a great place to start or expand your global business. Take advantage of this amazing city and watch your business soar!